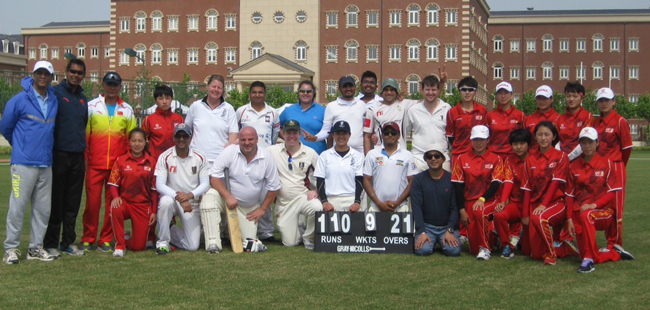 Cricket was the winner on Sunday, May 3, as the SCC Pirates fought out a tough two wicket victory over the Chinese National Women's team. The Pirates were a mixed team, selected out of volunteers from the Bashers, Hot Dogs and Pudong.
It was a clear, sunny day, and the Chinese captain won the toss and elected to bat. Chirag Bhansali started off with consecutive maidens, before striking in his third over, helped by a fine catch by Kerstin Petersen at cover. Amogh Kashyap was also bowling well from the other end, and the score after six overs had only managed to get to 16/1. The Chinese were maintaining a solid defense without scoring, and it took a fine piece of fielding from Amogh Kashyap to effect a run out from deep fine leg just before drinks.
Mark Henwood bowled the first spin of the day and the Chinese finally decided to attack the bowlers, causing a pair of edges to fall into the hands of the SCC fielders. At the end of the innings, Mei Chunhua bought herself back into the attack and immediately struck with three quick wickets in the space of two overs. Chinese opener, Sun Meng Yao, hit a fine 47 to top score for the day, and the China Women finished on 109/8 off their 25 overs.
The Pirates were in difficulty from the first over with a disastrous run out, but small partnerships between Mei Chunhua and Mark Henwood, and then Mark Henwood and Shreet Shah, steadied the innings. The Chinese Women kept up the attack with some disciplined bowling. Wang Men in particular picked up three good wickets, and the Pirates were in trouble at 50/7 off 11 overs.
Saran Kaylan came out to the crease under pressure, but broke the shackles with a brace of straight sixes on his way to 40 not out. He was aptly supported at the other end by a textbook innings from Dave Terrington. The Pirates crept towards the total, and when Saran Kaylan cut the ball over backward point for two, the game was over; the Pirates scoring 110/8 off 21.2 overs to win by two wickets.
The match was played in good competitive spirit, and another is being scheduled before the China team leaves their training camp. Thanks to Mei Chunhua for her liaison work with the China team, and also special mention to Shay Bisset for preparing some fantastic lunches for the team.