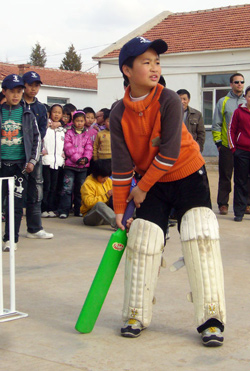 The Shanghai Cricket Club aims to foster a sustainable community through social interaction, philanthropy, and the sport of cricket. We are committed to promoting the game of cricket and strive to ensue that the SCC acts as a beacon of progress for developing the game in all its formats in Shanghai and throughout Asia.
In addition to promoting cricket throughout Asia, the club provides its members with a unique opportunity to connect to the community that they live in.
The SCC has been involved in charities and other socially responsible activities in the community including the Shanghai Cricket Hope School in Shi Pan, Sichuan Province, and Shanghai Roots & Shoots.
Shanghai Cricket Hope School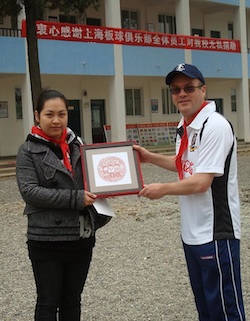 Following the 2008 Sichuan Earthquake, the China Youth Development Foundation's Project Hope programme partnered with the organisers of the 2008 Coca-Cola Shanghai International Sixes and the British Chamber of Commerce in Hong Kong to raise funds to be rebuild the Shi Pan Elementary school near the historic walled town of Zhouhua in Guanyuan district, Sichuan Province. In late September 2008, a total of just over RMB 1 million was raised by two hugely successful cricket-themed charity dinners in Hong Kong and Shanghai, hosted by Sir Ian Botham and Allan Lamb with Ian Healy and Merv Hughes joining them in Shanghai.
The new school commenced operations in late 2009 and was officially opened in March of 2010. It has eight classrooms, a small library and a dormitory, and has a student roll of 180 children ranging from 4 to 11 years of age. In recognition of the efforts of the cricket communities in Hong Kong and Shanghai, the school was renamed the Shanghai Cricket Hope Elementary School.
Since the official opening, the school has continued to receive ongoing support from the staff of Coca-Cola Bottlers Manufacturing Co Ltd in Chengdu, the management of the Japan Cricket Association, and the Bashers Cricket Club in Shanghai, who arranged for Kraft General Foods to donate a new canteen in 2011.