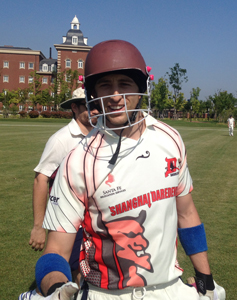 Daredevils batsman Jonti Leibowitz faced the first ball of the innings against the Bashers on Sunday for a dot, 39.4 overs after that, he faced the last ball of the innings and hit it for a four. In-between those two deliveries, Leibowitz was masterful, powering to 268* with strokes to all parts of the ground as the Daredevils rolled to a team high total of 389 for 7 in their 40 overs.
Leibowitz's first boundary came in the second over of the game – a four – and by the end of the innings, he had scored 29 fours and 17 sixes.
The Bashers had no answers for the South African opener, and will rue the few chances they had. After point was unable to get a hand to a chance cut shot while Leibowitz was in his 40s, the fielder at long on misplayed a loopy mishit that bounced over the his head for four when the Leibowitz was on 80. The final chance came when Leibowitz, on 196, went for his double century with a big hit to long off that picked out the fielder on the boundary, only to see the catch dropped.
The Bashers didn't fair much better in the chase, scoring 163 before being bowled out as the total proved too high to overcome on a day that saw an individual effort transcend both teams and the league.
Leibowitz's 268* now stands as the highest batting total in SCC League cricket, surpassing the previous mark of 178* set by Jason Bird in 2004 (who accomplished that feat in a 35 over match).