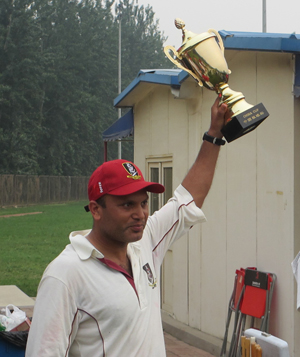 Shanghai Cricket Club Captain Dayne Wotton announced a 12 man squad for the upcoming China Cup match with Beijing Cricket Club in Beijing on June 7.
Team skipper Waqar Khattak will lead the squad, with Paul Malpass his lieutenant. Also included are Jonti Leibowitz, fresh from his historic batting performance, Jon Newton, John Swain, Deepak Nautiyal, Kevin Wright, Sajid Anwar, Dayne Wotton, and debutants Wayne Voogt, Alex Todorov and Guru Kalyan.
The 50 over match will be the 10th time Shanghai and Beijing have played for the cup; Beijing holds both the advantage in victories at 6-3 as well as the cup, having won it in 2014 in Shanghai.
The first China Cup was held in Shanghai in May 2007 with the return match in Beijing played in October 2007, with each club winning their home fixture. In 2008, only one match was held, with Shanghai prevailing. Since 2009, the China Cup has been played on an annual basis, with each club hosting every other year.
The Beijing Cricket Club was established in 2005. The club hosts the Santa Fe League and a Twenty20 League for regular weekend matches in Beijing, and play matches and tournaments throughout China and Asia.