In this article, we look back 122 years to the infamous SS Bokhara year of 1892 and the Interport match against Hong Kong in Shanghai. After a pause of 22 years following the win by Shanghai in 1867, the Interport matches between Hong Kong and Shanghai were played regularly during the early 1890s. Hong Kong had been victorious by an innings and 123 runs early in 1892 in Hong Kong, on the back of an excellent 107 by their captain, J. Dunn, and destructive bowling spells of 6/56, from Dr. J.A. Lowson, and 8/60, by E.J.D. Coxon. However, Shanghai managed to regroup to win the return match in October by 157 runs, and the Hong Kong captain, J. Dunn, conceded that "they were outplayed in batting, bowling and fielding." The umpire accompanying the team up to Shanghai, Major Turner, had been instrumental in arranging the first Interport match back in 1866.
The Match
The first innings of both sides was fairly ordinary. Shanghai batted first on a good wicket and posted 112 runs, helped along by 30 not out from A.G.H. Carruthers late in the innings. Dr. J.A. Lowson followed up his fine bowling earlier in the year in HK with 8/66 off his 37 overs. Hong Kong then were bowled out for 78 runs, with A.G.H. Carruthers picking up 5/29 off his 21 overs and C.S. Barff taking 4/33 off his 19 overs. This gave the SCC a lead of 34 runs after the first innings, and they put together a much better second innings, posting 202 all out off 59.3 overs. The innings was held together by a fine knock of 78 from A.J.H. Moule, and 53 by C.S. Barff. A.G.H. Carruthers also contributed another 30 runs at the end of the innings.
Dr. J.A. Lowson was injured while batting by a fast ball from C.S. Barff and did not bowl, and so Hong Kong used seven different bowlers searching for wickets in the second innings. The best Hong Kong bowler was G. Mumford, who took 6/68 off his 23 overs bowling his "underhand grubbers." Hong Kong were set 236 runs to win, but only managed 79 on a badly wearing wicket and were overwhelmed by a much stronger side, according to the reminisces of Dr. J.A. Lowson. A.G.H. Carruthers took 8/41 off his 21.1 overs to take his match tally to an impressive 13/70.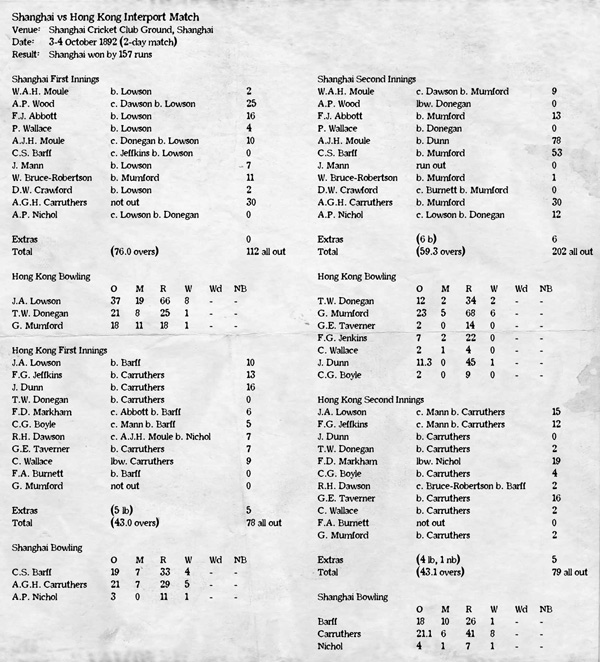 Hong Kong was given an enthusiastic send-off. The North China Daily News reported that "the vessel dipped her flag again and again, Dr Lowson tooted his horn, and the Shanghai Cricket Week was over." Sadly, the SS Bokhara foundered in a typhoon off Sand Island in the Pescadores on the return voyage to Hong Kong. Only two of the Hong Kong cricketers, Dr. J.A. Lowson and Lieutenant F.D. Markham, and just 23 from the 148 aboard, survived the sinking.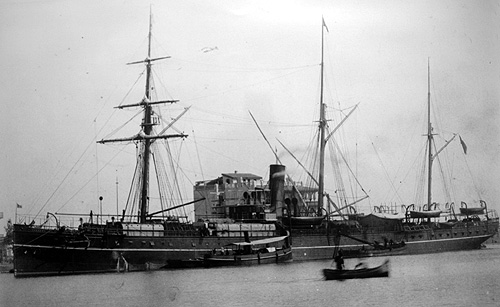 In remembrance of this event, the modern day matches between the SCC and HKCC have been played for the Bokhara Bell Memorial Trophy. The SCC last won the trophy in Shanghai in 2011, and will host the match again later this year.