Bashers Bowlers Defeat the Daredevils 
By Mark Henwood, SCC Marketing & Communications
Match: Daredevils vs Bashers (Division 3)
Date: 26 May 2013
Venue: SRFC Near
Toss: Daredevils, who chose to field
Result: Bashers won by 33 runs
The Bashers overcame a strong Daredevils side to win their first match of the season on a gloomy day at the SRFC. Andy Sutherland, Daredevils captain, won the toss and decided to field first.
The opening bowlers for the Daredevils, Fraser Pearson (4-0-8-3) and Joe Osbourne (4-0-29-1), immediately applied the pressure with some quality swing bowling in the overcast conditions. Pearson was particularly effective in creating wicket chances and restricting the run rate. Mal Collins (8), and Mark Henwood (5), struggled to score and both were dropped early. Pearson struck in the third over by bowling Collins. After hitting a fine four through mid-wicket, Ben Collins (5) was caught and bowled, and then Henwood was caught at mid-off. The Bashers were 29/3 after 5 overs. That brought Justin Field (25) and Mikson Pathi (29) together for a significant 45 run partnership. Pathi played some elegant lofted drives for boundaries and Field also played an aggressive innings. Barry Greaves (4-0-26-2) broke the partnership by bowling Field, and then Ali Mann (6) produced an entertaining cameo that included a cracking on-drive, his first boundary for the Bashers. Pathi was plumb LBW to Osbourne in his second spell, and then Bavi Jain (0) was bowled for a first ball duck by Greaves with the score on 82/6 in the 14th over. Mann was bowled by Sutherland (4-0-26-1) in the 17th over and the match was in the balance, but a strong finish by Oliver Wilson (21 not out) and Paul Howard (14 not out) enabled the Bashers to post 124/7 off their 20 overs.
The opening bowlers, Howard (4-0-19-0) and Wilson (4-1-9-3) put together a great start for the Bashers, with Wilson bowling Greaves (2) and having Duncan Watters (0) caught behind in consecutive deliveries in his second over. Jain (4-0-17-2) bowled opener Andy Plain (7) with a swinging yorker, and then had Navin Alwani (2) caught one-handed by a spectacular jumping catch by Ben Collins at point. Pearson (23) and Oliver Clark (14) put together a solid partnership to get the Daredevils back in the game. However, when Jack Sheppard (1-0-3-1) bowled Clark with another yorker, and Pearson was run out, the momentum was with the Bashers. Mann (4-0-28-2) took two more wickets in his second over to remove Osbourne (0), caught by Field diving at short mid-wicket, and Narendra Yadav (0), bowled. Neal Watkins (2-0-9-0) and Henwood (1-0-4-0) kept the pressure on by restricting the scoring. Wilson came back to bowl a wicket maiden, during which Sutherland (9) was caught by Field, once again diving, at short cover. Dave Maher (5 not out) and Stephen Werner (3 not out) batted out the remaining two overs, but the Daredevils could only manage 91/9 off their 20 overs. The Daredevils were still in the game at the innings break, but a strong bowling performance by the Bashers gave them a convincing win despite their relatively low score batting.
K2 Leopards Win Rain-affected Match on Run Rate
Contributed by Dipen Mallik, K2 Leopards
Match: K2 Leopards CC vs Digital Devils (Division 2)
Date: 26 May 2013
Venue: SRFC Far
Toss: Digital Daredevils, who chose to bat
Result: K2 Leopards won on run rate
This match was a repeat of the Division 2 final last year, won by the K2 Leopards in a nail biting finish. Both teams had put together a good start to the 2013 season, so everything pointed to a hard fought match. The Digital Daredevils captain, V. Bhaskar, won the toss and elected to bat first on the overcast day.
The Digital Daredevils openers, Prasanna Baskaran (0) and A. Mattoo (15) started the innings slowly, playing the bowling on its merits. Manish Lohani (6-1-34-1) and Dipen Mallik (6-0-32-0) put together a good opening spell, and some brilliant fielding from M. Khatri gave the K2 Leopards their first wicket, as Baskaran was run out without scoring after facing 14 deliveries. Digital Daredevils stalwart, A. Pandey (55), came to middle and started to display his top class batting by hitting the K2 Leopards bowlers all around the park. A. Rehman (6-0-42-2) was able to break the partnership by removing opener A. Mattoo (15) caught behind, and S. Vanapalli (4) LBW, in quick succession. Soon afterwards, Hasain Nawaz (4-0-29-1) caught and bowled Pandey, and M. Desai (0) was run out by A. Raja. Bhaskar (17) showed some resistance in the middle order, but was caught by H. Metla off the bowling of M. Khatri (6-0-33-1). S.K. De (45) helped pick up their run rate with some big hitting, including two big 6s and three 4s, but he was also run out by Raja. The lower order batsman didn't contribute much, and although Janarthanan Pandian (12) hit a couple of boundaries, he was caught off the bowling of Lohani. K. Gopal (2 not out) and H. Vyas (0 not out) finished the innings. The Digital Daredevils slowly, but steadily, accumulating 196/8 off their 30 overs, which was a competitive total.
The K2 Leopards started their innings in their peculiar bang-bang fashion, with A. Raja (33) and D. Mallik (9) hitting boundaries at regular intervals. Some good bowling by Vanapalli (5-0-26-2) found the edge of the bat, and Mallik was caught behind, giving the Digital Daredevils their first wicket. H.Metla (16) began, with his new magical Boom-Boom bat, and was in good form, until he was LBW to Bhaskar (3-0-15-2). Lohani (28 not out) played a classy innings that held the K2 Leopards middle order together, despite loosing two quick wickets. First, Raja was caught by Vanapalli off the bowling of Bhaskar, and then S. Sinha (6) was LBW to Vanapalli. Z. Khan, who has improved his batting during his time with the K2 Leopards, played a defiant innings to prevent the Digital Daredevils taking any further wickets. Both Lohani and Khan batted patiently and dispatched the bad deliveries to the boundary. Khan in particular played some fine cut shots. Their partnership forced the Digital Daredevils to change their bowlers, and so Baskaran (3-0-28-0), G. Rajan (1-0-23-0), De (1-0-16-0), Mattoo (3-0-22-0), Vyas (2-0-16-0) and Pandian (2-0-8-0) all attempted to make a breakthrough. Unfortunately, rain interrupted the game in the 20th over, with the score at 154/4, and as play was impossible, the umpires stopped the match. Both teams waited patiently and eventually the rain slowed up. The umpire and both captains inspected the pitch, but the rain had already done the damage to ground and pitch, and so the umpire ended the game and awarded the K2 Leopards the win on the basis of their superior run rate.
Hot Dogs 44 All Out!
Contributed by Ben Lyons, Pudong CC
Match: Pudong CC vs DPR Hot Dogs (Division 1)
Date: 26 May 2013
Venue: Dulwich
Toss: Pudong, who chose to bat
Result: Pudong won by 60 runs
This was the second match between these teams in 2013, with the Hot Dogs winning on the very first weekend of the season in a rain-affected match. The Pudong captain and wicketkeeper, Ben Lyons, won the toss and decided to bat first in the overcast conditions, as only seven of the team had arrived at the toss.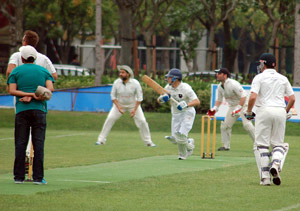 The Hot Dogs had a perfect start, as Eric Marcellin (0) was caught in the gully off James Keel (5.1-0-18-3) for a duck con the second ball of the match. A. Dartnell (17) and C. Aldous (2) put together a slow but steady partnership until Aldous was out LBW to Vaibhav Krishnan (6-2-12-3). Deepak Nautiyal (1) was also caught in the gully, and Ankit Kawatra (0) was LBW off his third delivery, both off the challenging swing bowling of Krishnan. Pudong was in trouble at 20/4, and it got worse as first Dartnell was bowled by a ball that kept low, and then Vinay Kumar (5-0-22-1) spun one past S. Abichandi (8) and trapped him in front. J. Jones (22 not out) and Bernie Hughes (14) put together the only real partnership of the match to take Pudong past 70 runs. Hughes hit one great 6, but chased a ball outside off stump and was caught behind off the bowling of B. Goodwin (8-1-34-2). Ben Lyons (9) was also out caught trying to score quickly off the bowling of Goodwin. Amogh Kasyap (7) was bowled by Jack Measom (1-0-14-1) in an over that included 4 wides, and Prateek Gadhecha (2) was bowled by Keel in the 25th over, which meant that Pudong had scraped together a lackluster total of 104 all out, mostly on the back of a gutsy innings by Jones.
The Hot Dogs openers, Kumar (7) and Peter Todorov (5) took 17 runs off the first three overs, before Nautiyal (8-0-14-5) had Kumar caught behind, Todorov out LBW, and Alex Cummings (3) bowled off his pads. After a loud LBW shout was turned down, Gadhecha (6-0-11-1) then followed it up by bowling Krishnan (1) with an inswinging beauty. Nautiyal trapped Keel (2) LBW, after hitting the pads twice in succession. The Hot Dogs were reduced to 24/5. Alex Todorov showed some defensive grit, but was eventually bowled by Nautiyal to give the bowler an impressive 5-wicket haul. Marcellin (2-0-4-3) picked up the wicket of D. Hooper, caught by Nautiyal at mid-off on the drive. G. Morgan (3) and Goodwin (2) looked settled, but Marcellin again enduced another uppish drive, this time from Morgan, and he was caught superbly by Nautiyal at mid-off. Marcellin then bowled Goodwin with a perfect yorker, and Kawatra (2.3-0-6-1) bowled Measom (6) to finish the innings at 44 all out, the lowest total recorded in Division 1 over the past few seasons. The bowlers of both sides dominated the match, and it was only the partnership of Jones and Hughes that gave Pudong a total to defend.