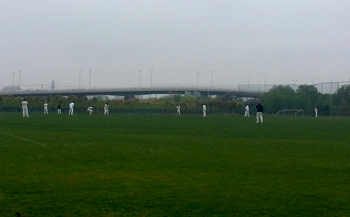 Persistent rain on Saturday, and a drizzly, grey Sunday morning delayed the start of the first SCC trial game of the season on Sunday, but otherwise did not hamper the Maroons or Greens as both teams were able to build innings with the bat in the wet conditions.
Greens skipper Jolly won the toss, and elected to bowl first – a brave call on the wet outfield, but one that paid dividends as he was rewarded with a strong opening spell from Nautiyal and Lim. Both bowlers found their lines and lengths quickly, and with the new ball moving in the air and nibbling off the wicket, were able to ask serious questions of the Maroons top order. Within 10 overs, the Maroons were four wickets down, and it was time to consolidate the innings. Cumming looked solid before a ruch of blood saw him bowled, leaving Sinha and Wahid with a tricky task to build a competitive total.
Both batsmen played with great application – patiently respecting the good balls and attacking the bad balls with gusto. Sinha initially took the lead as the senior batsman, before Wahid upped his run rate. Both scored well deserved half-centuries which should be applauded for the discipline and application. Sinha was eventually bowled looking to add boundaries, before Wahid retired hurt in the final over having been hit hard in the ribcage by a short Jolly delivery. Two strong innings, two strong bowling performances that were ably backed up by Kawatra and Jolly.
230 to win off 50 overs required application, and Austin and Voogt got the Green team off to a perfect start, with both batsmen finding their touch quickly and able to find boundaries at regular intervals, putting on 130 in the first 20. Austin retired on 50, and Voogt followed soon after having reached his half century.
Kawatra and Wotton continued the chase, rotating the strike well and putting away the bad balls without looking to be facing too many difficulties. Both batted fluently, and when the scores reached 200, both were retired.
As is often the case, there was a late flurry of wickets, but Laxman held firm and ensured that the Greens safely reached their target.
Overall, it was a good start to the SCC training season, and one that highlighted the importance of building and innings with the bat – as well as the importance of line and length with the ball. It was a great effort all round, with all Clubs and all divisions involved in this game. With Beijing visiting soon, and with trips to Singapore and Hong Kong fast approaching, it was a good day for individuals to put down their markers for selection in the Dragons and Pirates teams.
| | | | | | | |
| --- | --- | --- | --- | --- | --- | --- |
| Maroons | | | | Greens | | |
| | | | | | | |
| Waqar Khattak | Ct. Voogt B.Nautiyal | 2 | | Ollie Austin | Retired Out | 53 |
| Andrew Dartnell | B. Lim | 0 | | Wayne Voogt | B. Idrees | 50 |
| Manoj Zalpuri | Ct. Nautiyal B. Lim | 11 | | Ankit Kawatra | Retired Out | 35 |
| Steve Field | Ct. Voogt B.Nautiyal | 5 | | Dayne Wotton | Retired Out | 40 |
| Alex Cumming | B. Kawatra | 13 | | Jack Osbourne | Ct. Sinha B. Field | 5 |
| Sidh Sinha | B. Nautiyal | 67 | | Andy Steel | B. D.Patel | 1 |
| Faisal Wahid | Retired Out | 58 | | Nitin | Ct. Sub B.D.Patel | 0 |
| Guru Joshi | Ct. Austin B. Jolly | 12 | | Vikas Laxman | Not Out | 11 |
| Ganesh | Not Out | 4 | | Deepak Nautiyal | Ct. Dartnell B. Field | 0 |
| Darshan Patel | | | | Sameer Jolly | Not Out | 1 |
| Irfan Idrees | | | | JJ Lim | Did Not Bat | |
| | Extras | 58 | | | Extras | 40 |
| | | | | | | |
| | | 230 | | | | 236 |
| | | | | | | |
| D. Nautiyal | 10 – 0 – 37 – 3 | | | S. Field | 10 – 0 – 47 – 2 | |
| JJ. Lim | 10 – 0 – 37 – 2 | | | Guru Joshi | 3 – 0 – 20 – 0 | |
| A. Kawatra | 10 – 0 – 42 – 1 | | | W. Khattak | 6 – 0 – 26 – 0 | |
| S. Jolly | 10 – 0 – 46 – 1 | | | I. Idrees | 10 – 0 – 64 – 1 | |
| W. Voogt | 4 – 0 – 10 – 0 | | | A. Dartnell | 2 – 0 – 28 – 0 | |
| Nitin | 3 – 0 – 9 – 0 | | | Ganesh | 4 – 0 – 35 – 0 | |