The Shanghai Cricket Club is delighted to announce that the 2017 SCC League balls will be sponsored by Sino Engineering thanks to the generosity of Antony Ward, General Manager.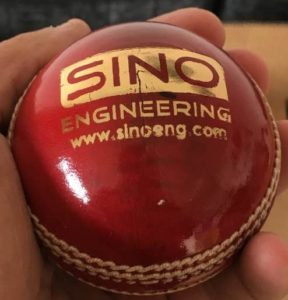 Sino Engineering, first become involved with the SCC last year when they first sponsored the Wellington Dukes. Sino Engineering is an Automotive Design and Engineering Company run by automotive experts with decades of industry experience. They understand how thier clients work, what they are trying to achieve and provide expertise to help them exceed their own expectations. They have been in business for ten years servicing a number of Automotive OEMs and Tier 1 suppliers from their technical centre in Shanghai, China. More details on Sino can be found on their website.
We have also switched to a new ball supplier in 2017 taking advantage in the fall of the value of Sterling and our sponsorship to move to a higher quality of ball – less excuses for batsmen or bowlers…
Once again many thanks to Antony and the Sino Engineering team for their support!