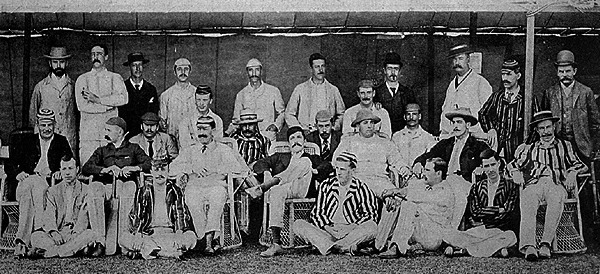 Since the first game was played between a team of officers from HMS Highflyer and a Shanghai 11 in 1858, cricket has had a home in Shanghai. Following a 45 year dormancy after the establishment of the People's Republic of China in 1949, the club was re-established in 1994 by expatriates living in the city and has since grown to over 300 members.
The Shanghai Cricket Club administers a three division league in which eight member clubs and associate teams play. The SCC also hosts an invitational sixes tournament and plays annual matches with Hong Kong Cricket Club, a revival of the original Interport matches from the turn of century. The club regularly hosts touring sides to Shanghai. Past tourists include the Marylebone Cricket Club, the Beijing Cricket Club, Kowloon Cricket Club, and Lamma Cricket Club from Hong Kong.
We are proud to be continuing and growing an institution with such a rich and deep history and welcome all in Shanghai passionate about cricket to join us in further developing the sport we love.
Club Charter
Mission
The Shanghai Cricket Club is a sports club that provides the best services and facilities to our members while ensuring our unique sporting culture and heritage are enhanced and appreciated within the community.
Values
The club prides itself on the respect and esteem it has earned. As a club, we respect our fellow members, their abilities and views and we work as a common team towards our goals. By pursuing excellence on and off the pitch, we earn the respect of our fellow members and the greater cricketing community in Asia.
People
Our members are the most important assets of our organisation. Our members enjoy being a part of the club and work to make the experience the best it can be for all. Integrity, honesty, loyalty and teamwork are the keys to providing an outstanding experience for our members.
Heritage
The Shanghai Cricket Club will continue to develop into the finest sporting club in Shanghai, drawing on our history to uphold our place within the sporting community. The club's rich culture and heritage will be observed, preserved and displayed for our members and supporters to enjoy.
Excellence
As a club and as individual members, we will strive for excellence at all times and look to consistently exceed expectations of service, and in accordance with the club's bylaws, deliver the best experience for all involved. We are committed to promoting the game of cricket and strive to ensue that the Shanghai Cricket Club acts as a beacon of progress for developing the game in all its formats in Shanghai and throughout Asia.